Speaker for the July 9th Meeting:  Howard Minsky:
GREAT Marketing Makes All The Difference
Ralph Waldo Emerson said, "Build a better mousetrap, and the world will beat a path to your door". Not So, according to Chester M. Woolworth, who was the president and chairman of Animal Trap Co. of America. He commissioned an elegant mousetrap, superior in every way to his competition, to be built and it failed miserably! Mainly because his target market, housewives, felt it was too beautiful to simply throw away and had no desire to clean out its' disgusting byproduct for reuse.
Whether you have a product ready to sell or are still in the idea stage, every inventor needs to have a solid understanding of marketing to survive let alone succeed in this business and I know just the guy who can take us through the paces leaving us with a firm foundation of knowledge to build on.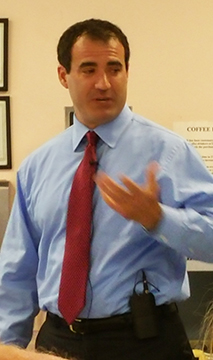 Howard Minsky, President and Co-Founder of SKM Media Group (www.skmmediagroup.com) SKM was ranked by Inc. Magazine's Inc500 as the 89th fastest growing company in America (that's 89 out of 14+ million companies). Howard has had a successful career as a serial entrepreneur for over 20 years. If anyone knows how to use marketing effectively, he does and is a good match for budding inventor/entrepreneurs like us.
He has been intimately involved with database marketing, sales, software development, direct marketing and online marketing. Howard has the unique ability to synthesize the talents of technology based professionals to achieve maximum benefits for clients. Having a strong background in marketing technology provides him with a foundation for understanding when to adopt best practice approaches versus leading with new techniques.
Howard will be addressing the following and other related topics that are crucial to the development of any business.
How to identify your target market

How to develop a campaign that will attract them

How to build professional relationships that last
If only poor old Chester Woolworth had the chance to meet our Mr. Minsky who knows what would have happen to his ill fated mouse trap.