He Made Millions! U Can 2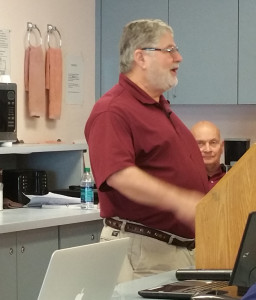 Gary R. Bronga is a man who did just that. In 1995, with his computer and $500.00 in the smallest bedroom in his home, he started a journey that lead him to a 3000 foot commercial office space after selling over 3 Million Clipeze.
What's a Clipeze? It's a decorative lapel pin with a small square opening near the bottom that forms a bar to accommodate the common bulldog metal clip on identification badges. If you go to his website www.clipeze.com you will see a wide variety of fun ways to accessorize your identification badge. He also has matching earrings, bracelets, lanyards and more.
Even though the product is a winner, it wasn't an overnight success. Mr. Bronga says he had enough rejection letters to wallpaper his home office. When he started he knew nothing about bringing a product to market. He knew very little about business in general But He Learned.
Now he shares his wealth of knowledge in a book titled, "Bringing a Product to Market From Your Home (With $500 and an Idea You Can Make Millions)" which he will be signing and selling at the meeting.
Over the years, I have read dozens of books regarding inventing, business and marketing. Obviously, Gary read many of the same books and more but has consolidated all of that information in a simple to read, "all in one source" that should be in every independent inventors collection.
One of the things that sets his book apart from all the others is, it exudes the passion he has for being his own boss. That passion is from the rightly deserved pride he has, in the fact that he did it all himself including 5 issued patents that he did Pro Se.
A true entrepreneur, Gary cannot just rest on his success. In his latest endeavor, he is working with the Florida Business Exchange which is a full service business and commercial brokerage firm specializing in, Business Sales, Mergers and Acquisitions, Business Valuations, Acquisition Searches, Counseling for Buyers and Sellers, Divestitures, New and Resale Franchises as well as International Investment Visas. I am sure he will touch on this experience as well but you can check it out on his website http://www.garybronga.com/ .
After Gary spoke to us in 2014, many of our members told me that he was one of the best speakers we ever had. No doubt, many of those who have heard him before will want to come to hear about his latest escapades in the world of inventing and business.
So come early, we are expecting a full house.